Management
Information on the management major at the Penn State Smeal College of Business.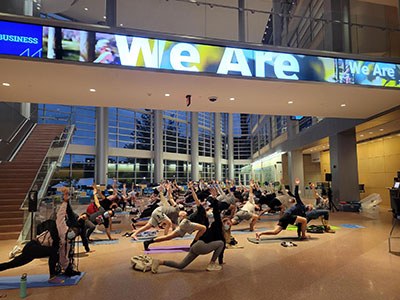 The Management major prepares students to be effective leaders in the global economy. Successful organizations require leaders and managers that are effective in formulating strategic objectives that balance the interests of multiple stakeholders, and in leading the people and processes necessary to accomplish the objectives, including selecting the best talent, aligning and developing human capital, and implementing organizational change. The Management major core courses provide the foundational knowledge and skills essential for being effective and ethical managers and leaders of organizations. There are two concentrations in the Management major: Human Capital and Organizational Leadership. The Human Capital concentration of the management major is aligned with the national curriculum guidelines of the Society for Human Resources Management (SHRM) and provides students with the SHRM Body of Competency and Knowledge which form the basis for SHRM certification.
Introductory Video Descriptions of Courses Taken for the Management Major
Courses in the Management Major
Prescribed MGMT Courses (9):
MGMT 326 (3) - Organizational Behavior and Design 
MGMT 451W (3) - Business, Ethics, and Society
MGMT 471 (3) - Strategic Management
MGMT Concentration Areas (9 credits); you will select one concentration:
Human Capital Management Concentration
MGMT 341 (3) - Human Resource Management 
Select two courses from the following:
MGMT 441 (3) - Organizational Staffing and Development 
MGMT 443 (3)- Performance Management
MGMT 445 (3)- Managing a Diverse Workforce 
Organizational Leadership Concentration
MGMT 355 (3) - Leadership and Change in Organizations 
Select two courses from the following:
MGMT 420 (3) - Negotiation and Conflict Management 
MGMT 445 (3) - Managing a Diverse Workforce 
MGMT 461 (3) - International Management
Aside from meeting some of the faculty in the course introduction videos included above, read more about the Management faculty, featured in the department's faculty spotlight series. 
NOTE: Pending approval from the Faculty Senate, the course requirements may change effective Spring 2022.  That pending information can be found here: Management Degree Requirements (effective SU21 and FA21) and (effective SP22) and Sample Schedules.
Careers in Management
With a degree in Management, career opportunities are many and diverse. Management majors find positions in all industries including professional services and consulting, consumer products, insurance, manufacturing, banking, retail, sports, and more. Graduates pursue positions in consulting, leadership development, human capital management, business analysis, and customer service management, among many others. Some graduates also start their own businesses, return to a family business, or pursue graduate school. Read about some of the Management alumni, featured in the department's alumni spotlight series.
Top Hiring Companies: Full-Time
Amazon
Apple
B. Braun Medical
Kohl's
Oracle
Red Bull
Travelers Insurance Co.
Top Hiring Companies: Internships
Aetna
Intel
The Pennsylvania State University
PNC Financial Services
UPMC
Getting Involved in Management
Management majors are involved in the department, college, and university community.  Meet the Management Major Ambassadors, read about other Management students featured in the department's student spotlight series, as well as the Management majors who earned the Arnold Scholarship for their academic achievement and involvement in the Smeal College of Business.
Professional Management Association
Professional Management Association (PMA) develops management principles and skills, offers project management experiences, and promotes professionalism through hands-on learning opportunities including meetings with managers, consulting assignments, and visits to company locations.
Faculty Advisor: Jennifer Eury
Smeal Human Capital Society
Smeal Human Capital Society (SHCS) provides opportunities for networking, professional development, mentoring, and resume building through projects and social activities.
Faculty Advisor: Lisa O'Hara
Nittany Lion Consulting Group
Nittany Consulting Group (NLCG) is a student organization open to students who are enrolled in the Nittany Lion Consulting Group experiential learning program.  This program operates as a student run, faculty supported consulting firm in which students engage with real world clients to take on challenges facing those clients. 
Faculty Advisor: David Lenze