Sports Marketing Focus Area
Information on the Sports Marketing Focus Area for Marketing majors at the Penn State Smeal College of Business.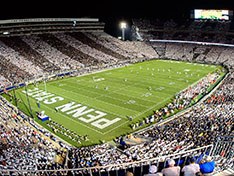 Sport is the sixth-leading industry in the United States with recent estimates of more than $485 billion dollars, which is a 61.67 percent increase in less than a decade. The growth of sports as a major industry has increased the need and opportunity for well-trained sports marketing professionals. As an undergraduate marketing major learning about sports marketing, students will emerge with a well-rounded and unique skill set that is highly sought-after in the industry.
Industry professionals and executives are looking to hire qualified, skilled candidates for internships and for entry-level positions now and into the future. Those experienced in sports marketing confirmed that classes about sport marketing better prepare graduates seeking entry-level jobs in the industry.
Students who complete this Sports Marketing focus at the Penn State Smeal College of Business will enhance their portfolios for career opportunities in sport marketing and business, sponsorship, media, sales – to name just a few. The sports industry is competitive, and it is necessary for students to network and build relationships while pursuing undergraduate education. This program seeks to maximize student contact with industry professionals and increase understanding of the sport business.
Marketing majors at Smeal are encouraged to complete the core course and two (2) associated courses from the list below:
Core Course: MKTG 443 – Sports Marketing
This course explores how various types of businesses and other organizations market products and/or service related to sports as well as how sports are used as marketing platforms for non-sports products. Unique aspects of the sports business will be explored including how strategies and tactics related to marketing in this sector differs from other industries. The purpose of this course is to provide an overview of various aspects of sports marketing. This will include the use of sports as a marketing tool for other products, the marketing of sports products and emerging considerations that are relevant for both marketing through and the marketing of sports. Since sports involves consumers, businesses, and other organizations, this course will cover B2C as well as B2B marketing. How product, distribution, pricing, and promotional programs are developed particular to this industry will be one of the primary focuses. Relationship marketing, the role of technology, sponsorships, ambush marketing, partnership leveraging, endorsements, venue naming rights, licensing and emerging legal and ethical issues will also be covered.
The suggested courses below are simply recommendations for students interested in pursuing Sports Marketing:
MKTG 410 – Personal Selling
MKTG 428 – Advanced Sales Management
MKTG 449 – Sports Business Market Strategy
Smeal students studying sports marketing have completed internships and careers at: Baltimore Ravens, Dick's Sporting Goods, Learfield Sports, Little League Baseball Inc., MLB Advanced Media, Monumental Sports and Entertainment (Wizards and Capitals), NFL League Office, Nike, NJ Devils, NY Mets, Octagon, Penn State Athletics, Philadelphia Eagles, Philadelphia Phillies, Pittsburgh Pirates, State College Spikes Under Armour, and USA Football.
Typical careers for students that have completed the focus area in Sports Marketing are marketing manager, sales executive, brand activation manager, director of group sales, and corporate sponsorship manager, including: 
Associate, Sports Marketing and Sponsorships, KPMG
Director of Client Relations, NY Jets
Director of Event Presentation and Fan Experience, University of Virginia Athletics
Director, Global Marketing Partnerships at National Basketball Association (NBA)
Director for Business Development – Pittsburgh Pirates
Senior Account Executive, Los Angeles Rams
Coordinator, Sponsorship Strategies, MKTG (formerly Team Epic)
Study Outside the Classroom
Penn State Sports Marketing Association includes a Sports Marketing Division that aims to provide members with hands-on experience in the sports industry that will set them apart when looking for internships/jobs.
Additionally, the Penn State Sports Business Club fosters the growth of students' knowledge in the sports industry through professional lectures, workshops, and other networking opportunities that aim to provide members with internships and careers in the sports industry and related fields.
Faculty Contacts for the Focus Area in Sports Marketing