Retail and Merchandise Management Focus Area
Information on the Retail and Distribution Management Focus Area for Marketing majors at the Penn State Smeal College of Business.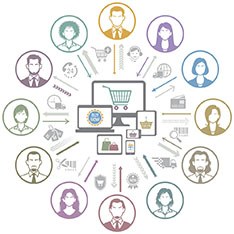 A retail focus enables students that have an interest in pursuing careers in the retail industry to have the best opportunity to learn about field-related marketing practices. Retail organizations are among our most active recruiters. This focus area prepares students for challenges they will encounter. Courses have been designed to deal with merchandising strategies as well as marketing tactics that are important for business success. Retail strategy, merchandise planning & management, as well as developing an understanding of consumer behavior are all relevant topics that are stressed in this focus area.
Marketing majors at Smeal are encouraged to complete the core course and two (2) associated courses from the list below:
Core Course: MKTG 327 – Retailing
Management of marketing institutions in distribution channels from producers to consumers. Emphasis on retail institutions: location, personnel, merchandising, control, promotion.
The suggested courses below are simply recommendations for students interested in pursuing Retail and Merchandise Management:
MKTG 422 – Advertising and Sales Promotion Management
MKTG 437 – Advanced Retailing and Merchandise Management
MKTG 440 – Services Marketing
MKTG 442 – Sustainable Behaviors of Consumers, Firms, and Societies
MKTG 472 – Strategic Brand Management
MKTG 473 – Digital Marketing
MKTG 474 – Marketing Analytics
Smeal students studying retail and merchandise management have completed internships and careers at: Dick's Sporting Goods, TJX, Burlington, Kohl's, Macy's, Aldi, American Eagle, Ross, Cedar Point, and Nordstrom.
Typical careers for students that have completed the focus area in Retail and Merchandise Management are merchandise planner, store manager, and allocation analyst, including:
Merchandise Planner, Dick's Sporting Goods
Store Manager, Kohl's Department Stores
Senior Allocation Analyst, TJX Companies
Study Outside the Classroom
Penn State Marketing Association has a retail division designed to expose members to resources, events, and exclusive career opportunities needed to be successful in the retail industry. Through partnerships with top retailers, industry leaders, and our alumni across the world, they offer a variety of projects to help develop future retail talent and enhance the status of our students in this rapidly evolving industry.
Faculty Contacts for the Focus Area in Retail and Merchandise Management