Marketing Analytics Focus Area
Information on the Marketing Analytics focus area for Marketing majors at the Penn State Smeal College of Business.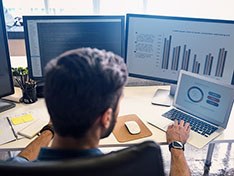 In rapidly changing markets characterized by ever more demanding customers served by global competitors, intuitive decision-making, even when honed by years of experience, is unlikely to generate superior results. Instead, successful marketers increasingly rely on Marketing Analytics, a systematic approach to applying analytical models to properly organized empirical data, with the goal of extracting true insights about the marketing environment.
Marketing majors at Smeal are encouraged to complete the core course and two (2) associated courses from the list below:
Core Course: MKTG 474 – Marketing Analytics
This course will provide you with an introduction to marketing analytics. You will study various tools for generating marketing insights from empirical data in such areas as segmentation, targeting and positioning, satisfaction management, customer lifetime analysis, customer choice, and product and price decisions using conjoint analysis. This is a hands-on course based on the Marketing Engineering approach and Excel software, in which you apply the tools studied to actual business situations. You will also complete a group project in which you collect and analyze data or introduce your fellow students to a marketing analytics technique not studied in class.
The suggested courses below are simply recommendations for students interested in pursuing Marketing Analytics:
MKTG 426 – Business Marketing
MKTG 473 – Digital Marketing
Smeal students studying marketing analytics have completed internships and careers at: PwC, TJX Companies.
Typical careers for students that have completed the focus area in Marketing Analytics are business analyst and digital analyst, including:
Sustainability Manager, New Pig
Senior Digital Analyst, Moxie
Business Analyst, Deloitte Consulting
Faculty Contacts for the Focus Area in Marketing Analytics
Hans Baumgartner, Duncan Fong, Chelsea Hammond, Andrew Petersen, Ning Zhong