Digital Marketing Focus Area
Information on the Digital Marketing focus area for the Marketing major at the Penn State Smeal College of Business.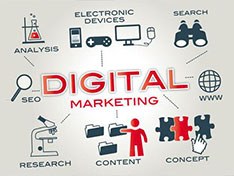 The Focus Area in Digital Marketing for Penn State Smeal College of Business marketing majors allows students to dive deeper into the constant shifting of digital marketing principles and practices. Students studying digital marketing will come away with an understanding of current strategy, platforms, campaigns, and evaluation while developing the skills to research, design, and recommend new digital marketing concepts and execution.
Marketing majors at Smeal must successfully complete the core course and two (2) associated courses from the list below:
Core Course: MKTG 473 – Digital Marketing
This course allows students to study and evaluate the ever-evolving digital marketing fundamentals and landscape through the latest books, industry news, cases, and guest speakers. Marketing majors gain real experience in developing an effective digital marketing campaign through completing a final group project with strategy, tactics, and measurement sections with project prompts or scenarios provided by a company. Topics include, but are not limited to, digital strategy, technology such as Internet of Things, wearables and augmented reality, content marketing, digital advertising, marketing automation, SEO and search marketing, mobile, influencer marketing, and social media marketing.
The suggested courses below are simply recommendations for students interested in pursuing Digital Marketing:
MKTG 327 – Retailing
MKTG 422 – Advertising and Sales Promotion Management
MKTG 445 – Global Marketing
MKTG 472 – Strategic Brand Management
MKTG 474 – Marketing Analytics
Smeal students studying in digital marketing have completed internships and careers at: Amazon, Baltimore Ravens, Comcast/Xfinity, Google, IBM, Jellyfish, Meltwater, Oracle, PetSmart, and Twenty Over Ten.
Typical careers after completing the focus area in Digital Marketing are digital marketing managers, social media managers, and sales executives, including:
Director of Creative Strategy, Deeplocal
Product Marketing Manager, Google
Strategy & Analytics Consultant for Interactive Experience and Mobile, IBM
Study Outside the Classroom
Penn State Marketing Association includes a Digital Marketing and Advertising division charged with coordinating events on campus related to digital marketing and driving club participation in competitions and challenges by companies and the American Marketing Association (AMA).
Faculty Contacts for the Focus Area in Digital Marketing
Matt Checchio, Arvind Rangaswamy (research), Ning Zhong