Consultative Selling Focus Area
Information on the Consultative Selling Focus Area for Marketing majors at the Penn State Smeal College of Business.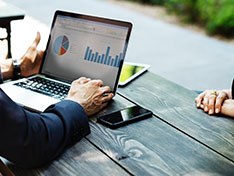 Marketing majors at Penn State Smeal College of Business are encouraged to complete the core course and two (2) associated courses from the list below:
Core Course: MKTG 428 – Advanced Sales Management
Approaches to planning, organizing, staffing, training, directing, and controlling the sales force in support of marketing objectives.
The suggested courses below are simply recommendations for students interested in pursuing Consultative Selling:
MKTG 410 – Personal Selling
MKTG 426 – Business Marketing
MKTG 440 – Services Marketing
MKTG 474 – Marketing Analytics
Smeal students studying consultative selling have completed internships and careers at: PepsiCo/Frito-Lay, Mars Inc.
Typical careers for students that have completed the focus area in Consultative Selling are account executive, sales manager, and advertising executive, including:
Account Executive, Memorable Entertainment Television
Advertising Sales Assistant, Discovery Communications
Senior Sales Service Representative, Mondelez International
Study Outside the Classroom
Penn State Marketing Association includes a variety of industry-specific divisions in an effort provide its student members with real-world business experience; not just limited to the fundamentals of marketing, but also exploring all professional and rudimentary skills of business. Through personal and professional development, networking and leadership, PSAMA offers its members the vital prerequisites needed for any undergraduate to make a comfortable transition to the workforce.
Faculty Contacts for the Focus Area in Consultative Selling
Franklin Carter, Andrew Petersen, Johanna Slot, Dave Winterich